Luminar is very complementary to Aurora. Luminar is designed as a single exposure editor, although to be clear it is a WHOLE LOT MORE than that. It's an entirely new product, built from the ground up with the idea to help you create masterful images. You see, all my fears were allayed once I opened up Luminar and started experimenting with it. In the comparison of Luminar VS Aurora HDR, Luminar offers easy photo editing tools. Aurora HDR focuses more on HDR merging, processing and editing. The full version price of Luminar is 2/3 of Aurora HDR. Part 2: Aurora HDR Alternative. Learn Skylum's Luminar & Aurora HDR has 4,672 members. GROUP DESCRIPTION & RULES: This group is for photographers interested in learning how to better use Luminar &/or Aurora HDR.
My Comparison: Aurora HDR 2019 vs Aurora HDR 2018
Aurora HDR has become the gold standard of HDR (High Dynamic Range) processing. It's latest incarnation and major update is Aurora HDR 2019. I've been using the previous version, Aurora HDR 2018 since it came out more than a year ago. I like it and gave it a favorable review at the time. When I saw recently that Aurora HDR 2019 was available I thought it only natural to give it a workout and see if Skylum was able to improve an already good product, enough to warrant an upgrade. Here's what I found.
**Skylum offers a free trial of this software, there are links and discount codes at end of this article**
Bottom line first
Is it worth upgrading to 2019 if you own 2018? I think so. Is it worth buying it outright if you don't already own it? In most cases this a yes also. If you read my review of 2018 you'll see I like using Aurora HDR for single image processing. I was pleasantly surprised that 2019 has improved significantly, not only for single image processing but also for traditional HDR processing of bracketed exposures. Skylum's new Quantum HDR engine provides a more natural staring point for both and has all but eliminated noise as well. Although there are some new features and interface changes, the quality of the result and efficiency in getting there are the main reasons to own Aurora HDR 2019.
The best part
The most important and significant update in HDR 2019 is what Skylum calls the Quantum HDR Engine. Catchy names aside, it really works well. I tried several types of images shot under various conditions and the results before making any adjustments were outstanding. This held true for both single images and brackets. Furthermore I'm thrilled that Skylum paid attention to those of us that favor using single images. The starting points for either are very natural looking. In my book this is big because I don't have to spend much time attaining a natural result and if I do want to go grunge or have an obvious HDR look it's still very easy. In the previous version the initial result was less natural and it could take some work to get to get a natural feel. Another big benefit of the new engine is that results have far less noise than previously.
There's more
Coupled with the markedly improved processing engine are some newer and really useful presets. What this means is you can often get right where you want to go very quickly. If your image isn't stellar up front, in many cases it can be nearly perfect with one click. As with 2018 you can just adjust the overall application of the preset with a slider (0-100%) to tweak it to your needs. Then if you still want to make some more adjustments you have a myriad of tools in the side panel.
Also new in this 2019 version is the LUT (Lookup Table) Mapping feature allowing you to create cinematic, black and white, vintage and numerous other looks simply by selecting a LUT from the pulldown menu with the option of adding your own LUTs you find online or create yourself. I also like the opacity slider for LUTs that are a little heavy handed or if I just want a light touch of the look provided by the LUT. Skylum has had LUTs in Luminar for some time and it exists in other software as well. So this feature is more handy than it is essential. Nonetheless it's nice to have available if you want it.
Workflow
My approach with using Aurora HDR 2019 is that I view it as a starting point and plan to hop into Luminar and/or other software as needed to finish my image. With 2019 the starting point is much better than the previous version so I'm more likely to use it in the first place and it saves me time overall. Although there may not be many folks out there that would have Aurora HDR as their sole processing toolset, Skylum takes into account that every user has different needs. So there are a lot of tools available in 2019 that give you the potential to get a final or near final image.
Other differences
The layout is better organized now with HDR Enhance, formerly a single slider under HDR Basic in the previous version. It is now a dedicated panel with 4 sliders including HDR Clarity, HDR Smart Structure, and HDR Microstructure. I also find the results of the new implementation to be a little more refined and aesthetically pleasing. In 2018 you could enhance detail and sense of depth using HDR Structure and then intensifying that if wanted, by using the Boost. In 2019 it's a little easier and user friendly with the HDR Smart Structure slider essentially replacing the 3 previous sliders. Then if you want more of a sense of depth you can use the HDR Clarity slider. This isn't so much a game changer but certainly easier, more logical and enough of an improvement that it warrants mention.
Balancing noise and detail
I ran into some pretty large differences in noise between the two versions. With the night shot of St. Pierre church using 2018 I couldn't bring the shadow noise down without severely smearing detail in other, more important areas of the image. I didn't have that problem with 2019. Of course I could have created more layers with masking and try to selectively reduce the most offensive noise or take it into another program to work on the noise. And this doesn't address the issue of the speckled sky which would also require more layers and masks to get it back to black. But the point here is that using HDR 2019 I have a very nice image without doing much of anything when I opened this challenging photo in 2019. All I had to do was bring down blacks for the sky and bring up shadows for the dark areas, all without bothersome noise.
Pros
Aurora Vs Luminar 4
• New HDR engine called Quantum HDR yields better results than 2018
• Noticeably better initial processing/starting points than 2018 including single images
• Substantially better noise reduction
• More useful presets than 2018 allow for one click adjustments for many types of images
• Sunsets handled more naturally than in 2018
• Stark contrasts handled better than previous version
Cons
• Lags: When applying sliders or moving the image around at 100% it takes 2-3 sec. to redraw the image. This is nothing major, but an annoyance.
• Lack of ability to have more than one image (single or combined bracket) open at a time
• Masking needs to be fleshed out or perhaps just removed: No auto-edge masking and you can't view grayscale. Also no ability to see luminosity masks without switching to another masking tool first
Conclusion
My goal was to try Aurora HDR 2019 and make a direct comparison with the already worthy 2018 version and see if there are enough differences to warrant buying the new version. If you're upgrading it's definitely worth $49/49€/42£ (with code WOLFSON). For those potential first time buyers I can't think of anything else out there that comes close to the quality and ease of use for $89/89€/82£ (with code WOLFSON) Already the standard by which other HDR processors are measured, Aurora HDR has become a refined product with 2019 incorporating big improvements over the previous version. The greatest enhancement is the new Quantum HDR Engine yielding much better and more natural looking starting points, major noise improvements, and better handling of large disparities in exposure, especially areas adjacent to each other.
With all the images I tried I only ran across one where I liked the starting point better in 2018, but only slightly. I should note this was a daytime shot at ISO 100 on a tripod so not as challenging as many of the other images I tried.
Even though there are some new features like LUTs and improved interface and controls, the real reasons to upgrade are simply the outstanding quality, reduced noise, and great presets that will help you obtain a beautiful final image and spend less time than without it, or even with 2018.
You can try before you buy with a free trial. Click on this link and then hover your mouse pointer over the Aurora HDR menu at the top and you'll see the free trial option.
Happy Shooting! (and processing)
Joel
Joel Wolfson is an internationally published photographer who loves teaching as much as shooting. He shares his 30 years of experience as a working pro with other photographers and enthusiasts by way of his workshops, 1 on 1 training,webinars, articles, blog and speaking engagements. His technical articles have been translated for use in more than 30 countries yet he is best known for his artistic images of nature's fleeting moments and unexpected views of everyday places around the globe. He is one of the pioneers of digital photography having conducted digital photography seminars for Apple and other corporations starting in the early 90s. His roster of notable clients includes numerous publications and fortune 500 companies. He currently works with great affiliates like Arizona Highways, Topaz Labs, ON1, and Skylum to have more avenues for working with those wanting to pursue their love of photography. His goal is to make learning and improving one's photography easy, fun and rewarding.
Disclosure about product links and affiliations: Some of the links I provide are affiliate links which means I get a small commission, with no additional cost to you, if you click it and end up buying something. It helps keep the lights on as well as supporting this blog and my other free educational resources and articles. So if you use them, thanks! It is always my goal to report my results in a straighforward manner whether or not it favors a particular product.
Although writing about programs is my primary interest, I am fascinated with photography too. I love taking photographs of nature with my digital SLR camera.
Unfortunately, despite my best effects and the fact that digital cameras take away a lot of the guesswork and settings associated with their manual cousins, I always struggle to take the best quality photographs.
It would, no doubt, be amazing if I had access to software that provided me with the opportunity to retouch my photographs to improve their quality.
One of my friends suggested that I should try either Photolemur 2021 or Luminar 2021.
After having tried both the programs for some time, I decided to write this Photolemur vs Luminar 2021 review to help budding photographers understand the features of both of these photograph enhancement programs and determine which one suits their needs the most.
Before proceeding with this Photolemur versus Luminar review, I would like to point out that software developers are including "artificial intelligence" in their programs. These two programs are no exceptions, even though there is now a newer and more advanced release by the same vendor.
It is the same with these two photo retouching software, making them so simple to use that even those who have never used such programs before will feel at ease after using them for a couple of hours.
Photolemur vs. Luminar AI
I found out that both programs drastically cut down the learning curve typically associated with photo retouching programs. Let me now explain the features of both these software along with their prices, merits, and demerits.
Quickly Navigate to:
Photolemur
The index page of the vendor of this program states that Photolemur spares you the costs of purchasing an expensive program and the headache of spending hours with it to perfect your images. Thanks to its auto-editing feature.
It further states that the program uses artificial intelligence for the job and the user only has to drag and drop their images on the application and let technology complete the job of retouching your photographs.
Unlike other high-end programs that are mostly subscription-based, you can purchase Photolemur, available for both the Windows and Mac operating systems as a one-time, subscription-free purchase.
Pricing
The one-off subscription costs are $35 for a single license and $55 for a family license that allows five persons to use this program.
Add-On
You can also purchase three different add-ons (styles) including:
• Rich: Perfect for enhancing wedding photos, glamorous looks (I believe this means photographs of models), and fashion photography
• Fusion: Ideal for enhancing party photographs, nightlife shots, and street photographs
• Impress: Perfect for enhancing landscape photographs taken while traveling, early morning shots, as well as for sunset skies
I was impressed by the fact that the website of the vendor allows you to see how images look before and after being processed by Photolemur by sliding a vertical bar to the left and right respectively.
This program offers the following filters:
• Sky enhancement
• Color recovery
• Exposure compensation
• Foliage enhancement, and
• RAW processing
In addition, you can change the color, saturation, and hue of your photographs with the help of the following styles, similar to Instagram filters, and available in version 3 of the program:
• Apollo
• Evolve
• Fall
• Mono
• Noble, and
• Spirited
Who Can Use Photolemur?
On the one hand, this program is designed and targeted for novice photographers who lack the knowledge needed for making custom photo edits. On the other hand, professional photographers who hardly have the time to edit each photograph manually can also depend on it.
Batch Processing of Photos
This software supports batch processing and has the option for processing RAW (an unprocessed photograph captured by the digital camera's sensor, and saved in the proprietary format, specific to the manufacturer of the camera) formats too.
During this Photolemur 3 vs Luminar review, I feel it is important to point out that the "artificial intelligence" (AI) incorporated with Photolemur, takes away the headache of manual editing as the software figures out all the decisions required and implements them to produce excellent quality photographs.
The Software Studies and Learns
Thanks to its "AI," this program while processing different types of photographs, is able to understand the different types of images processed and distinguish between different objects in the images such as mountains, foliage, buildings, faces, and people so that it can edit them appropriately.
Stronger with Photolemur Version 3
The program has received several updates after Skylum purchased it. This made its artificial intelligence engine even more powerful.
Cloud-Based Processing
Version 3 includes a powerful cloud-based batch image editing feature. You do not need to worry if you do not have a fast computer, as all of the images are processed by the cloud servers of Skylum.
The additional features included in version 3 include:
• Automatic face enhancement
• Photolemur styles
• Export to SmugMug (available only on the Mac platform)
• Batch processing (allows you to apply facial retouch, styles, and boost to a batch of images)
• Improved performance… the vendor has implemented improvements to boost the stability and speed of the program along with its AI batch processing engine.
The new version of this software concentrates on portrait photo editing. This, combined with its batch image processing feature, which also allows you to include one of the different styles provided to a batch of images quickly and flawlessly, makes Photolemur stand apart from competitors such as Luminar.
Easy to Use
Using the program is extremely simple. Be prepared to be pleasantly surprised when you do not find a host of features in its interface. On launching the program, you will be presented with a small window that has a couple of options to load images.
Drag and Drop
On the one hand, you can load a new image on the program using the file browser, and on the other hand, you can drag and drop photographs on the screen.
Once the image loads, the interface expands to accommodate the image aspect ratio. However, the program does not have an option to zoom in or go full screen.
If you are using this program for the first time and do not have the image you want to process available in your computer's hard disk drive, select the "open sample image" option.
Version 3 of Photolemur supports .png, .tiff, .jpeg, and raw image formats of various sizes in pixels.
Where Are the Options?
You will find just a limited set of options for processing photographs. This is because its AI engine handles all the tasks automatically. Wait for some time to see the final edited version of your image. You will also see the vertical before/after slider, mentioned above, which you can use to compare the original photograph with the processed one.
Click on the "export" button if you are satisfied with the results.
Alternatively, you have the option to click on the "brush" icon to adjust the intensity of the processed effect. The included "style" feature consists of Instagram-like filters you can apply to your images once the AI enhancement has done its work.
Photo editing and enhancement have been taken to a higher level with AI (Artificial Intelligence) as exhibited in this amazing software. This review sheds more light on Photolemur as a time saver for both the photo editing novice and expert. Put the pictures there and let it do the work for you.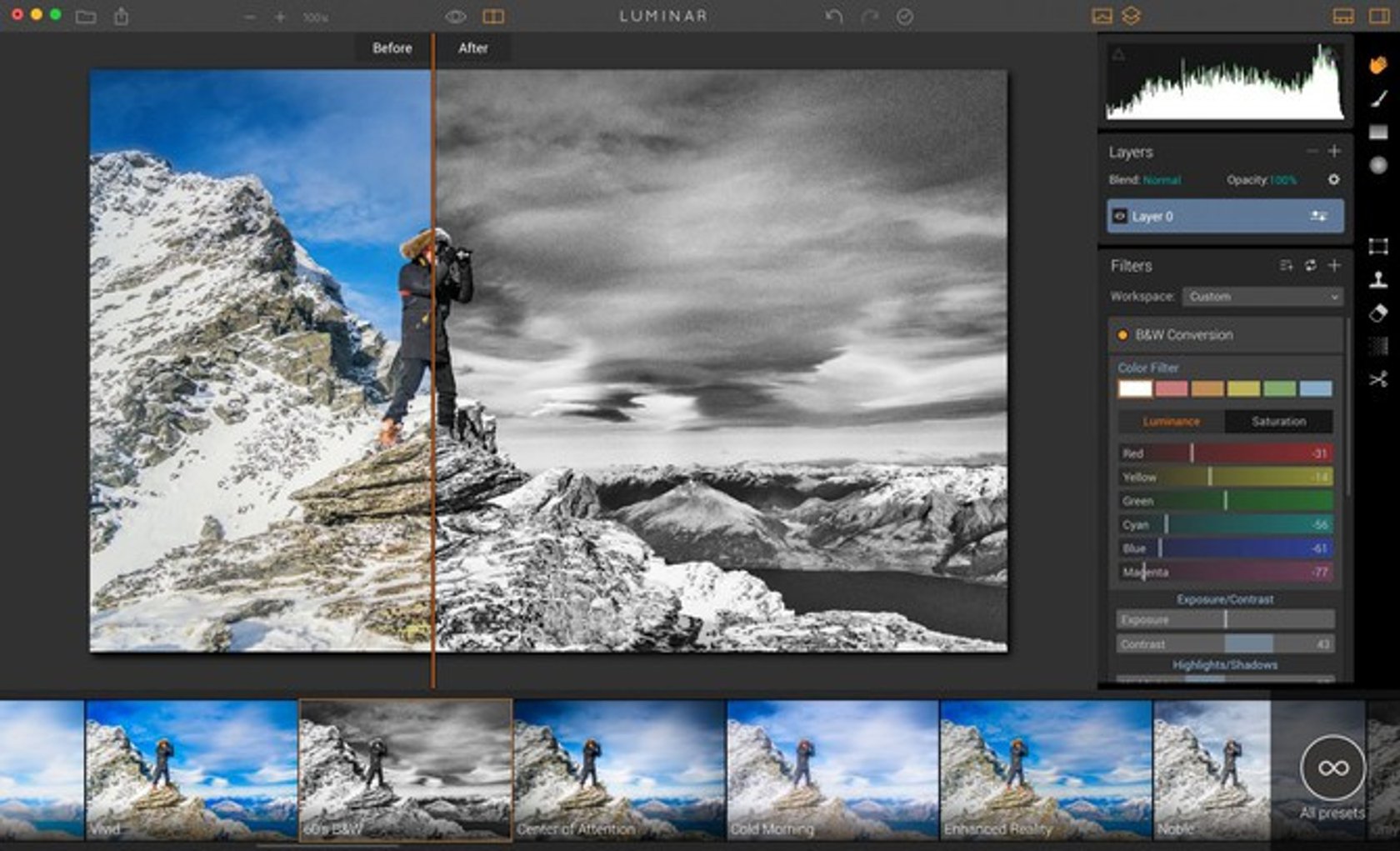 Compare Photolemur and Luminar
Offered by the same vendor, Skylum, I expect Luminar to have nearly identical features like Photolemur. Therefore, I was not surprised by the vertical slider feature displayed on the home page of this program. However, I also noticed many other options in its menu, which allowed me to individually tweak settings as per my preference.
Luminar
The vendor has included the "libraries" function in version 4, which changes it from being a single image editor to a photo workflow application. Unlike the previous versions, in which you had to open an image, edit it, and save it after each major edit, you just have to click on an image to load it.
Automatic Saving as You Edit
The software saves your work automatically as you keep on editing it. This means that you can focus all your attention on the editing aspect.
Easily Browse Through the Thumbnails Created
The implementation of the current library consists of a combination of database and file browser. You can add folders to the library, and the software will scan it and create thumbnails for browsing.
As the folders are synced with your computer's hard disk drive, Luminar reflects updates when you make changes in the Windows Explorer or Finder (for Macintosh-based computers). The software does not regenerate thumbnails from RAW files. Your sole option to bypass this issue is to load the RAW files by switching to the edit tab.
Photolemur or Luminar
While I found that .jpeg files loaded extremely fast in the edit interface of Luminar, it takes some time for RAW files to load. According to me, the program loads RAW images in different stages. Initially, it displays the embedded preview, followed by a cached, low-resolution preview, and finally the full resolution image.
You can start editing the image after the second stage. If you have applied filters such as "distortion correction" you can only edit the image after it loads fully.
Luminar has a somewhat basic view, which does not permit you to view the file type… you have to switch on the info panel for this. This can be frustrating if you are editing a combination of .jpeg and RAW images as they both appear beside each other in "catalog view" mode.
Available As Plugin
This program is available in a standalone version as well as plugins for "Adobe Photoshop," "Adobe LR," and "Apple Photos" extensions.
Supported on Windows and Mac
Like Photolemur, Luminar too is available for Windows and Macintosh-based operating system and is not subscription-based.
There is an option to choose between getting a license for 1 PC and 2 PCs with varying prices for each, respectively. As the developers are offering a 30 days money back warranty, you can uninstall it from your computer and request a full refund if you do not like it.
Amazing Features
This is the only photo enhancing software I have seen that provide you with different modules for enhancing different types of images such as:
• Aerial
• Professional
• Quick & Awesome
• Landscape, and
• Portrait
Each of these options has its individual preference. For example, the "Aerial" mode is the best for enhancing drone photographs.
The "Professional" mode contains all the essential tools that professional photographers need like RAW development, advanced contrast, dehaze, and much more.
Novice photography enthusiasts will love the "quick & awesome" feature, as it provides three sliders for changing the saturation and clarity of an image and also boasts of the unique Accent AI of Skylum. You can also use the power of artificial intelligence to:
Add realistic sunrays on your photograph
Change the sky in your images to make them look incredible
Automatically analyze your photographs and apply suitable enhancements
Good Photo Organization
I also loved the way Luminar organizes photographs by day, month and year, allowing you to quickly access and view any images in each category in the program's library.
Automatically Apply the Same Photo Enhancement to Other Photographs
Another amazing feature is the ability to apply a specific and personalized enhancement to different images. Enhance one image. Once satisfied, select other photographs you would like to add the same enhancement to. The software immediately adds that enhancement to all selected photographs. This is a great time saver.
Automatically Saves Edits
Like Photolemur, Luminar too saves edits automatically. This helps to save time as you edit.
I did not like the way the software added the "lens distortion" effect to RAW files whenever I opened them for editing. You can manually turn it off each time you do not want this feature to be applied, as there is no option to disable this feature from within the software settings.
Thumbnail Generation
Aurora Vs Luminar
Another bother is the inability to change the size of the thumbnails apart from the default small, medium, large, and largest presets. Thumbnail generation is too slow and takes roughly 10 seconds to complete the preview.
My Verdict — Which is Best?
Photographers often ask me about my views as to which photo enhancer is better based on my evaluation and comparison. I am sorry to dismay those who ask: "is Luminar better than Photolemur?".
No doubt the former has some excellent options, but it all boils down to your needs in particular as they both have great features.
Both Luminar and Photolemur offer you the possibility of getting single or multiple licenses.
In this review on Photolemur compared to Luminar, I'd like to point out that Skylum, the company that owns both these photo enhancement programs, has done well by incorporating into Luminar great tools that also let it function as a plugin to other programs.
They have even taken everything a notch higher in their unveiled product that comes with faster and more efficient artificial intelligence.
Like Photolemur, Luminar can also batch process multiple images and folders quickly.
To sum it up, my answer for those who ask: "is Photolemur better than Luminar?" is that it depends on your needs and level of experience.
The Difference Between Photolemur and Luminar
Photolemur will be ideal for people who have no time or who are busy. It will use its artificial intelligence (AI) to automatically improve photos with very advanced algorithms while Luminar has more editing workflows for more advanced users in terms of editing and organization of photographs.
Aurora Luminar 7
If you are looking for an easy-to-use photo enhancer or editor for some not-too-serious editing, you may use Photolemur. But if you care about the nitty-gritty, then you may opt for Luminar.
Luminar 4 And Aurora Bundle
NOTE: If you need to use Luminar 4 as a plugin, you do not need Luminar Flex as this new version can already be used as a plugin itself. It has been developed to work with Adobe Photoshop, Photoshop Elements, Apple Aperture, macOS photos, and Adobe LR.
Luminar is good, but if you do not have the time or money to invest, Photolemur will also make your pictures great automatically. All you need to do is just drag and drop your pictures and the software will do the rest with superior Artificial Intelligence. However, if you are a heavy user and into some serious photography work, then Luminar will do.